Diagnostics
The Service You Deserve, The Quality You Expect
Systems Diagnostics and Computer Flashing
With new state-of-the-art diagnostics tools Tirecraft Auto now has the capabilities to flash more than 70% of the vehicles on the road today. 
What is Computer Flashing?
Did you know that newer model vehicles can have more than 5 computers built in? These computers control many of your vehicle's systems, from cooling to braking. These computers require updates, also known as computer flashing.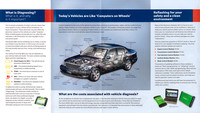 System Diagnostics
Your vehicle is equipped with sensors and warning lights to let you know when the vehicle needs a second opinion. Bring your vehicle in to find out exactly what is going on under the hood, and to have it taken care of by professionals.